Mmmm Massage Spa Day
Available at
45 locations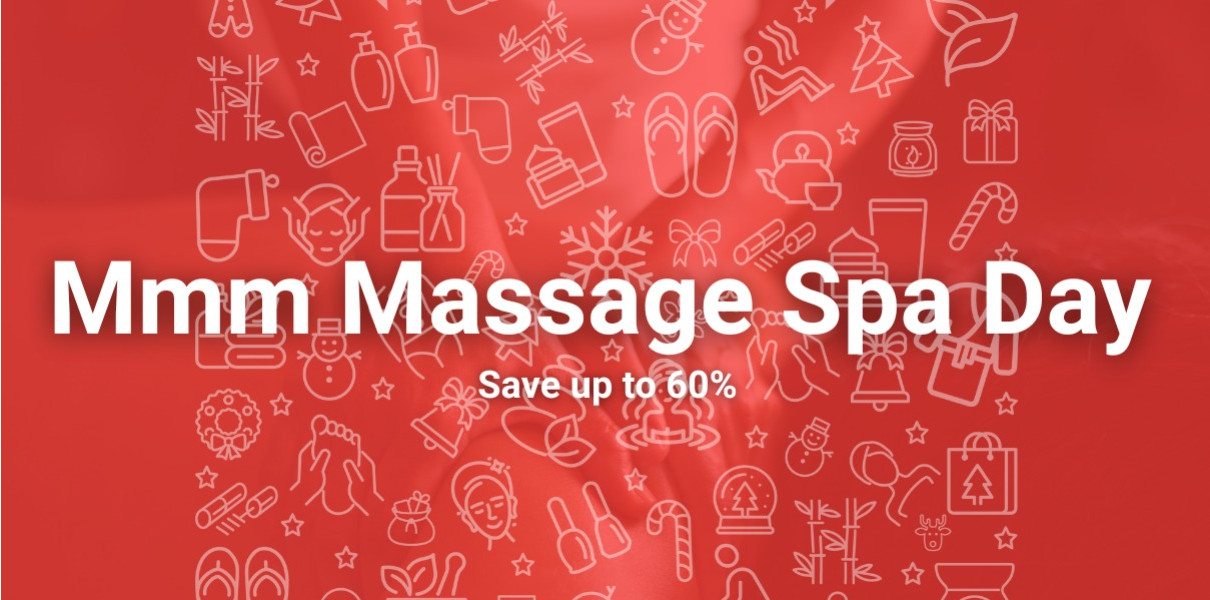 Free £5 Voucher
When you spend £50 on gift vouchers or cards
Free £10 Voucher
When you spend £100 on gift vouchers or cards
Your free voucher will be sent out to you within 30 minutes of placing your order.
Four Mini Treatments: Enjoy a bundle of mini massages, including Swedish Back, Scalp, Leg & Foot Massages.
Expert Therapists: Our skilled therapists tailor treatments to your needs, ensuring you leave truly pampered.
Facilities: Access saunas, steam rooms, pools, and relaxation areas for a complete spa experience.
Available for 1 or 2 people
50 minute treatment time
Picture yourself enveloped in a world of tranquillity and serenity, where stress melts away and relaxation takes centre stage. Imagine a day devoted entirely to your well-being, a day that pampers your body and soothes your soul. This dream can become a reality with our MMMMM Massage Spa Day a gift that promises feelings of bliss and rejuvenation.
Why choose this package? Let us share with you the reasons why it's the perfect gift to buy for yourself or a loved one.
Four Mini Treatments: Because. is better than 1 - with this package enjoy a mini massage bundle which includes a Swedish Back, Scalp, Leg & Foot Massage.
Expert Therapists: Our Therapists have the expertise to tailor your treatments to your specific needs, ensuring you get the most out of your spa day. Their caring touch and attention to detail guarantee that you leave feeling not only refreshed but truly pampered.
Facilities: A Bannatyne Spa Day isn't just about the treatments; it's about the entire spa experience. You'll have access to great facilities within our Health Clubs, including saunas, steam rooms, swimming pools, and relaxation areas*. Before or after your treatments, you can unwind in these tranquil spaces, further enhancing your sense of relaxation.
Escape from the Everyday: In our fast-paced lives, taking time for self-care can often be overlooked. A Bannatyne Spa Day provides an escape from the daily grind, offering you the opportunity to disconnect, unwind, and recharge. It's a day dedicated entirely to your well-being, an investment in your physical and mental health.
Versatile Gift: It's a thoughtful gift that shows you care about the recipient's well-being and want them to experience the joy of relaxation. PLUS by purchasing direct the recipient can redeem the value of the voucher against another day or treatment if they wish - so you don't have to stress about the choice being all yours!
Memorable Experience: The memories created during a Bannatyne Spa Day will linger long after the treatments are over. The feeling of tranquillity, the indulgent scents, the soft music, and the expert care will leave an indelible mark. It's an experience that will be cherished and remembered fondly.
So, why wait? Treat your friend or a loved one (or even yourself!) to the gift of ultimate relaxation and rejuvenation with a Bannatyne Spa Day. It's more than just a day at the spa; it's a journey to wellness, a chance to escape, and a memorable experience that will bring joy and tranquillity to your life. Don't miss out on the opportunity to indulge in luxury and create lasting memories. Purchase a Bannatyne Spa Day today and embark on a journey to relaxation like no other. Your well-being deserves it.
This Spa day is available for 1 or 2 people - please make your selection below!
All Spa days are subject to availability at the time of booking. Over 18's only.
Further information on current location guidelines can be found here.

If any guest has a medical condition, allergies or has had any medical treatments (including surgery) within the last six months please refer here.
*Facilities may vary per location.
Read More
Read Less
Mmm Massage for 1 Weekround
Available at
45 locations
Four Mini Treatments: Enjoy a bundle of mini massages, including Swedish Back, Scalp, Leg & Foot Massages.
Expert Therapists: Our skilled therapists tailor treatments to your needs, ensuring you leave truly pampered.
Facilities: Access saunas, steam rooms, pools, and relaxation areas for a complete spa experience.
Package for 1 person
50 minute treatment time
From £49
Mmm Massage for 2 Weekround
Available at
45 locations
Four Mini Treatments: Enjoy a bundle of mini massages, including Swedish Back, Scalp, Leg & Foot Massages.
Expert Therapists: Our skilled therapists tailor treatments to your needs, ensuring you leave truly pampered.
Facilities: Access saunas, steam rooms, pools, and relaxation areas for a complete spa experience.
Package for 2 people
50 minute treatment time
From £95