Take your Time Spa Day
Available at
45 locations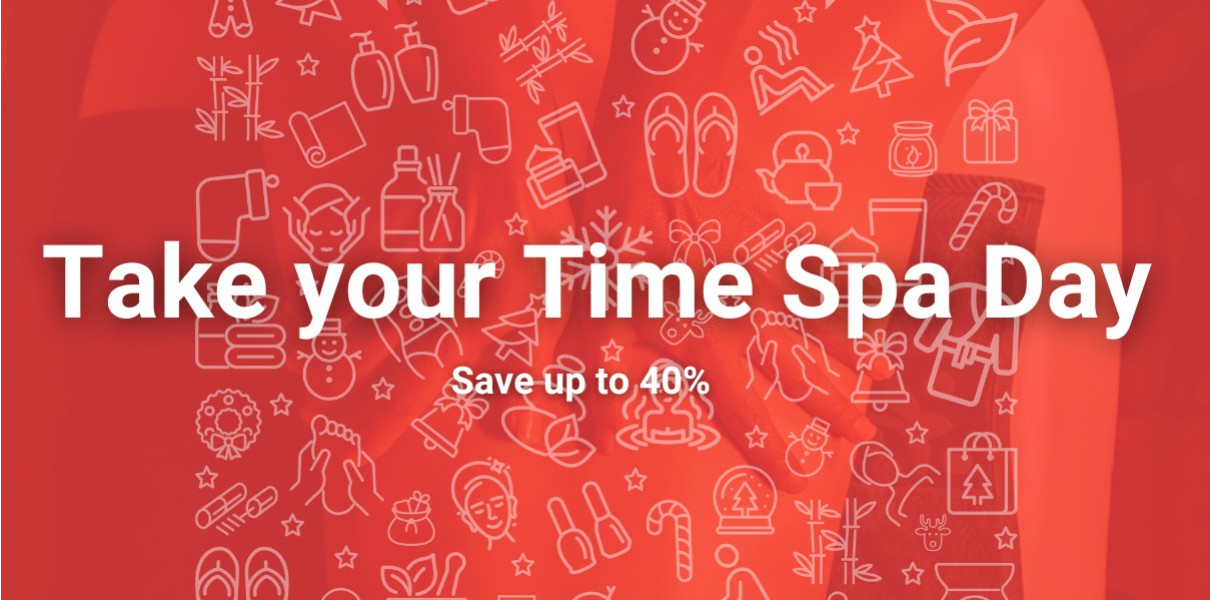 Free £5 Voucher
When you spend £50 on gift vouchers or cards
Free £10 Voucher
When you spend £100 on gift vouchers or cards
Your free voucher will be sent out to you within 30 minutes of placing your order.
Approx 70mins worth of treatment time pp
Massage & ELEMIS Facial included
Facilities: Access saunas, steam rooms, pools, and relaxation areas for a complete spa experience.
Available for 1 or 2 people
In the midst of life's hectic demands, it's essential to pause, take a deep breath, and make time for YOU!
At Bannatyne Spa, we wholeheartedly believe in the power of self-care, and we've crafted a Spa Day experience that embodies relaxation, rejuvenation, and indulgent treatments!
Imagine a day where the world fades into the background, and your well-being takes centre stage. You have two exquisite options to choose from, each designed to offer you the utmost in relaxation and revitalization.
Option 1: Full Body Massage and 25-Minute ELEMIS Facial
Allow yourself to be transported to a state of pure serenity with a full-body Swedish massage. Our skilled therapists will use their expert touch to release tension, melt away stress, and leave you feeling utterly relaxed from head to toe. And that's just the beginning.
Following your massage, you'll be treated to a 25-minute ELEMIS Facial, a luxurious experience that will leave your skin radiant and refreshed. ELEMIS is renowned for its exceptional skincare products, and our therapists will select the perfect treatments to cater to your unique needs, ensuring your complexion radiates with a healthy glow.
Option 2: 55-Minute ELEMIS Facial and a Back Massage
If you prefer to focus on skincare, you can indulge in a 55-minute ELEMIS Facial. This extended treatment allows you to fully immerse yourself in the rejuvenating benefits of ELEMIS skincare. Our therapists will customize the facial to address your specific concerns, leaving your skin feeling nourished, hydrated, and revitalized.
After your facial, you'll experience the bliss of a back massage, designed to target any remaining tension or stress. As the skilled hands of our therapists work their magic, you'll feel knots unravel and a deep sense of relaxation wash over you.
PLUS A Bannatyne Spa Day isn't just about the treatments; it's about the entire spa experience. You'll have access to great facilities within our Health Clubs, including saunas, steam rooms, swimming pools, and relaxation areas*. Before or after your treatments, you can unwind in these tranquil spaces, further enhancing your sense of relaxation.
Why is this Spa Day the perfect gift?
It's because it's a gift that says, "You deserve to be pampered, and you deserve a moment of respite from life's demands." Whether you're treating yourself, a friend or a loved one, this Spa Day embodies self-care and indulgence. PLUS this Spa Day is available to redeem week-round so provides ultimate flexibility.
In the soothing ambience of our spa, you can escape the daily hustle and bustle, cocooning yourself in tranquillity. You'll be looked after by our skilled therapists, it's a day to rejuvenate your body, nourish your skin, and soothe your soul.
So, take time for yourself, embrace the opportunity to relax and recharge, and gift yourself or a loved one the experience of a Bannatyne Spa Day. It's a gesture of self-love and well-being, a chance to luxuriate in relaxation, and an investment in the ultimate gift – the gift of you at your best.
This Spa day is available for 1 or 2 people - please make your selection below!
Massage and facial combination only. We are unable to perform a full body massage followed by a back, neck and shoulder massage as a combination or two Elemis facials within the same session, as these are conflicting treatments. If conflicting treatments are selected upon booking your treatment options will be amended on the day.

All Spa days are subject to availability at the time of booking. Over 18's only.
Further information on current location guidelines can be found here.

If any guest has a medical condition, allergies or has had any medical treatments (including surgery) within the last six months please refer here.
*Facilities may vary per location.
Read More
Read Less
Take your Time Spa Day for 1 Weekround
Available at
45 locations
Approx 70mins worth of treatment time
Massage & ELEMIS Facial included
Facilities: Access saunas, steam rooms, pools, and relaxation areas for a complete spa experience.
Spa Day for 1
Weekround availability
From £69
Take your Time Spa Day for 2 Weekround
Available at
45 locations
Approx 70mins worth of treatment time pp
Massage & ELEMIS Facial included
Facilities: Access saunas, steam rooms, pools, and relaxation areas for a complete spa experience.
Spa Day for 2
Weekround availability
From £135